Do you want to import Cashew nut kernels from Vietnam to your Country? How To Import The Cashews From Vietnam? What is the HS Code of Vietnam Cashew nuts? Import duty on cashew nuts from Vietnam? You don't know how to import Vietnam Cashew? Do you want to know more about Vietnam producers, suppliers, and exporters of Cashew nuts? Read More Below!
About Cashew Production
Cashew production is a very lucrative business; it has a very high prospect in the global commodity market. The Vietnam cashew trees are commonly cultivated for their nut kernels.
Cashew nuts are usually exported in 3 forms:
Roasted Cashew Nut. (Chili flavor, honey, coconut flavor, durian flavor, cheese flavor, chocolate flavor…)
=> Related articles:
In importing/exporting any commodity, To properly determine duties, policies, procedures of the commodity, one of the first things needed to determine is the HS code of the commodity Cashew nuts HS code in Chapter 8: EDIBLE FRUIT AND NUTS; PEEL OF CITRUS FRUIT OR MELONS
HS Code 08013100 is used for Cashew whole shell, Raw cashew nuts, Dried raw cashew nuts, Dried cashew nuts with skin, raw cashew, raw cashew nut, raw cashew nuts, raw cashew..…
HS Code 08013200 is used for Peeled cashew nuts, cashew nut kernels, cashew nuts pre-processed, cashew nut kernels (w240, w320, w450, Ws, Lp,…) raw cashew nuts shelled unroasted, cashew nut kernels unroasted…
=> For More Info: Different Grades Of Cashew Kernel, Cashew Grade List Vietnam
HS Code 20081910 – Cashew Nut Kernels Prepared (Ready To Eat) HS CODE
HS Code 20081910 is used for Roasted cashew nuts with salt, roasted cashew nuts with chili flavor, honey roasted cashew nuts, coconut flavor cashew nuts, durian flavor cashew nuts, cheese flavor cashew nuts, chocolate flavor cashew nuts…
HS Code 13021920 is used for cashew shell liquid, refined cashew nut shell oil, cashew nutshell resin, cashew shell oil, extracted oil cashew shell, CNSL, refined cashew nut shell liquid, oil made from cashew nutshell, Biological cashew oil – biofuel…
=> For More Info: What Difference Between Raw Cashew Nuts vs Cashew Kernels?
About Vietnam Origin Cashew Nut Kernels
In the cashew nut classification system, the high-quality nuts are usually big, whole-grain, and white nuts. Varieties Of Cashew Tree Grown in Vietnam only produce small and medium raw cashew nut (RCN) sizes. And W210 & W240 cashew is the best cashew nut of Vietnamese origin cashews, the kernels of them have Medium Size,  pale ivory, and beautiful whole-kernel cashew that has between 220 and 240 nuts/pound (395 – 465 beans/kg) and is known internationally as Vietnamese Premium Large Cashew Nuts. 
=> For More Info Here: Different Grades Of Cashew Kernels, Cashew Grade List In Vietnam
W210 & W240 Cashew Nuts Kernels The BEST Vietnam Origin Specification:
Color: Pale ivory
Condition: Whole Cashew Nuts Kernel
Grade: ww210 & ww240 (AFI standard)
=> For More Here: W210 & W240 Cashew The Best Quality of Vietnam Cashew Nuts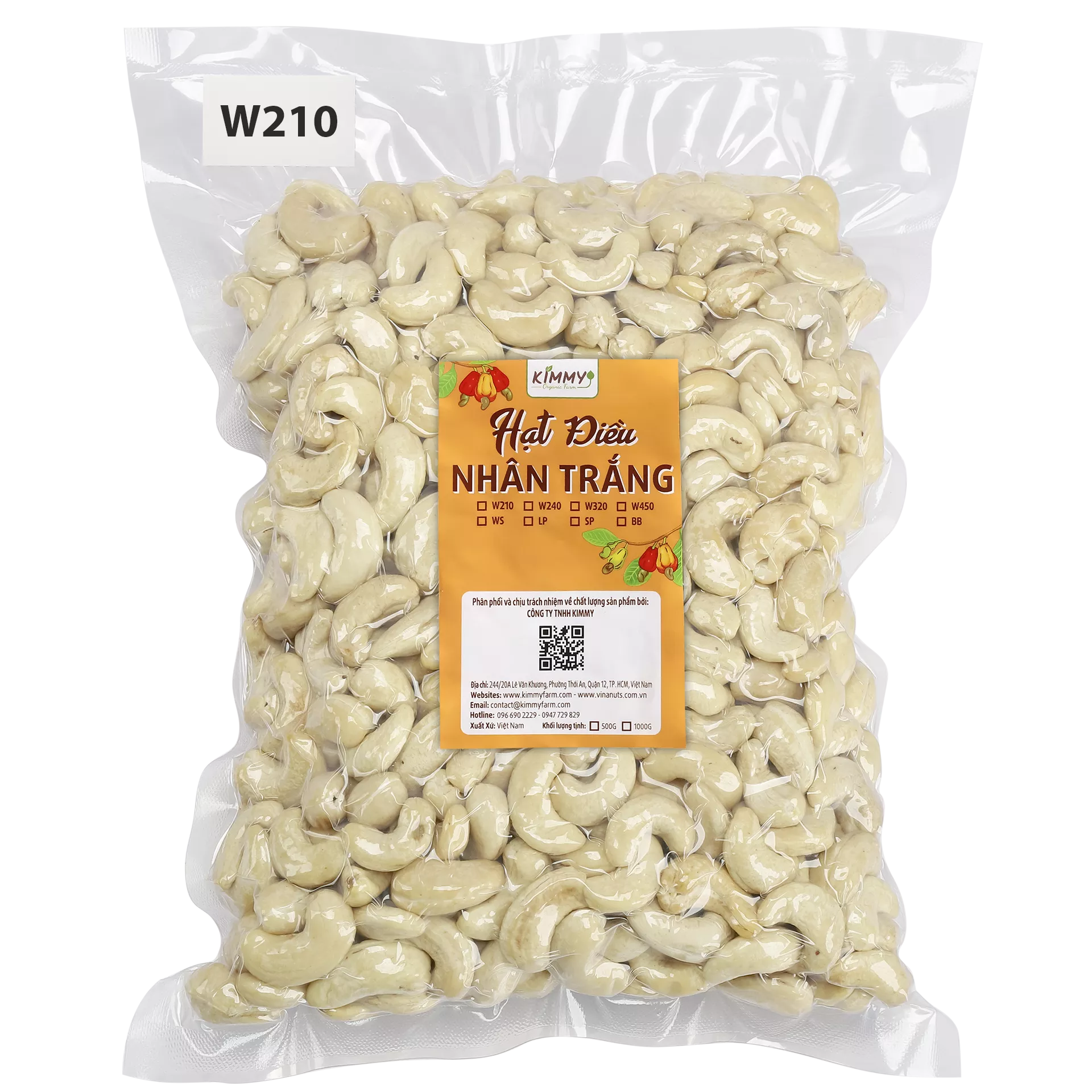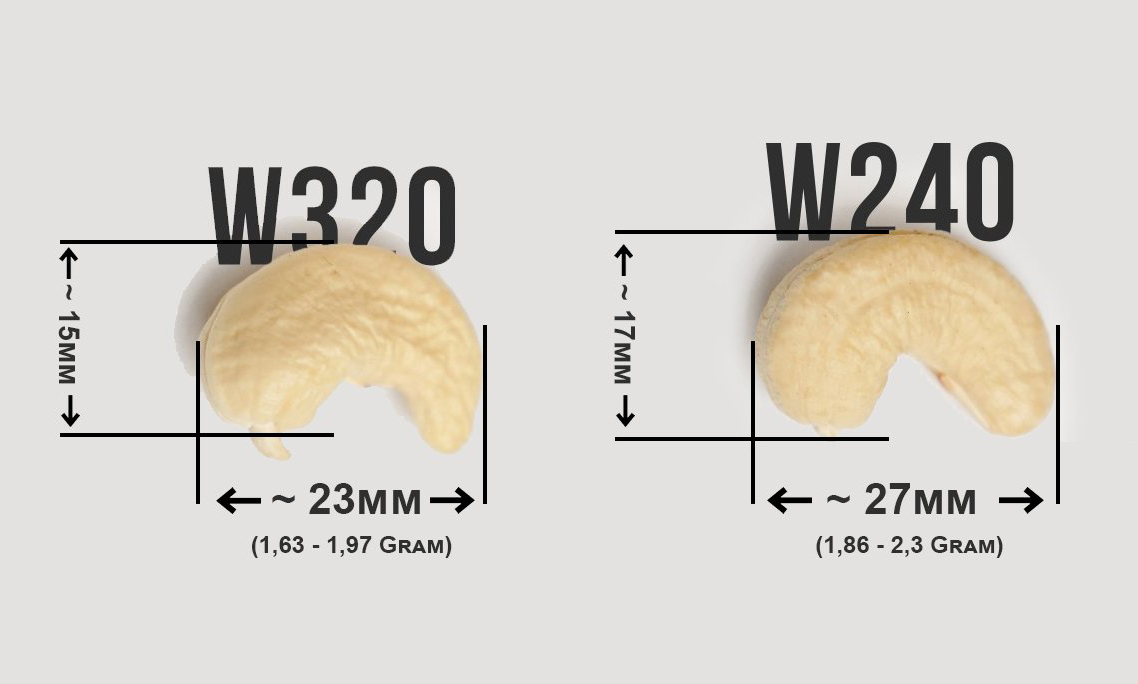 Features Of Vietnamese Origin Cashew Nuts Kernel:
Size: Medium and Small (w240, w320,w450,w500…)
Shape: Kidney shape with the big round at the beginning and smaller to the ending.
Color: Dark skin inner and nice pale ivory color.
Flavor: Cashews have a rich nutty flavor, similar to almonds or peanuts. When pureed, it may be hard to distinguish cashew butter from other nut butter like peanut or almond.
Texture: Crispy, dry, not rancid & not have a strange smell like mold.
The Biggest Cashew Growing Area in Vietnam
The largest cashew growing & producing of cashew nuts In Vietnam is Binh Phuoc, which currently has 137,368 ha of cashew trees, about 50% of the country's cashew area, and is known as the "cashew capital" of Vietnam. Most of Vietnam cashew nut companies & cashew factories are located in Binh Phuoc province. Vietnam Cashew nuts Industry's main products are Whole White Cashews Kernels. Percentage of Whole and Broken Grades of Vietnam cashew nuts industry: 80% Whole Kernels, 20% Broken Kernels. The high percentage of whole cashew grades in Vietnam is the result of Shelling by hand (labor-intensive, done by hand).
What Factors Affect Vietnam Cashew Nut Price!
The Origin Of Cashew Nuts
Origin is an often-overlooked factor. But actually, the origin of cashews is a huge factor affecting the deliciousness and quality of cashews thạt why the Origin of cashew has a heavy effect on cashew nut price. Because in different regions, there are different varieties of cashew trees, so there are certain differences between them such as taste, color, grain size, … It should be said that origin is a BIG factor that directly affects the quality of cashew nuts. In Vietnam, Binh Phuoc is the best cashew area, high quality with great taste, has weather and soil which are suitable for cashew tree development.
The Grade & Types Of Cashew Nuts
Vietnam's cashew industry usually exports semi-processing cashew kernels. The Cashew nut kernels are classified based on their color, size as well as number counted in 1 pound. The different grades have different prices: W240, W320, W450, WS, LP,… The bigger a cashew nut is, the higher its price is.
Quality standards required: For example, cashew exporting to the US must follow AFI standard, while the UK need to comply with BRC standard.
Packaging: product design, tin can, pp bag, carton box….
Vietnam Cashew Nut Kernels Depends on Season
Raw cashew nut season in Vietnam starts in January and ends in June. During the season the price could go up a little bit due to the high demand for Raw Cashew Nut. The weather makes a difference in cashew quantity harvested, high impact on the raw cashew nut price.
Market Demand
More consumers prefer Vietnamese cashew nuts, reflected through an expansion of the market share of the product in Vietnam's total import value. July 2021, the Vietnam Cashew nut industry exported 50,000 tonnes of cashew nuts worth US$324 million, a rise of 19.6% in volume and 33.5% in value compared to July 2020. In the long term, the US and EU market for cashew nuts kernels is expected to show stable growth (average of 5% per year). This growth is likely to be driven by changes in the eating habit of consumers, including the rising demand for healthier snacking options and vegetable sources of protein. Plain cashew nut kernels without any additions are increasingly being offered, as well as different roasting flavors. In addition, cashew nuts are increasingly being used as ingredients in fruit and nut bars, breakfast cereals, nut spreads, nut drinks, ice cream toppings, cookies, and other sweets.
About Packaging & Shipping Of
Vietnam Cashews
About Shipping Of  Cashew Nuts Kernels:
Cashew nuts kernels can be transported by ship, container ship, truck, railroad… cashew kernels are predominantly shipped in containers with favorable travel temperature range: 5 – 25°C. In weather (rain, snow), the cargo must be protected from moisture, since it may lead to mold, spoilage, and self-heating as a result of increased respiratory activity. Hooks shouldn't be used with bagged cargo, so as to prevent damage to the bags and loss of volume.
About Packaging Of  Cashew Nuts Kernels:
Transport packaging must be strong enough to protect the contents against damage by outside pressure. The packaging is dimensioned to allow contents to be held firmly, but not too tight. The dimensions are compatible with standard pallet and container dimensions. Cashew kernels must be packed in such a way as to protect the produce properly. The materials used inside the package must be clean and of quality such as to avoid causing any external or internal damage to the produce. Cashew kernels must be packed in hermetically sealed containers. The use of materials, particularly paper or stamps bearing trade specifications is allowed, provided the printing or labeling has been done with non-toxic ink or glue.
| | |
| --- | --- |
| Type of Packaging | In 20′ Full Load Containers |
| In 2 x 10 kgs vacuumed tins in cartons | 700 cartons |
| In 2 x 25 lbs (11.34 kgs) vacuumed tins in cartons | 700 cartons |
| In 1 x 50 lbs (22.68 kgs) vacuum flexy pouches in cartons | 700 cartons |
| In 2 x 25 lbs (11.34 kgs) Vaccum flexy pouches in cartons | 700 cartons |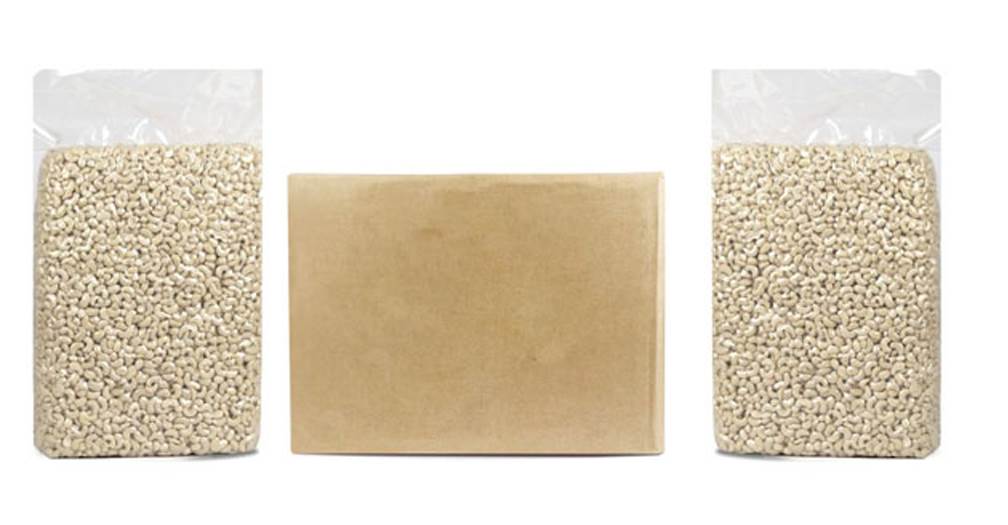 Create A Cashew Company In Vietnam
You can Create a Vietnam export company, buy cashew nut kernels, export them to your Country. Or you can set up your own processing cashew nuts factory in Vietnam, collect raw cashew nuts directly from local farms. After that you Export All cashew kernel products to your country.
5 Steps to Set up a Cashew nut Export Business in Vietnam:
Gather business knowledge in Vietnam
Select your local area to build your business
Meeting and building your network with local companies
Looking the reliable local shipping company and agent
Satisfy your buyers at your Target Country you want to Export Vietnam's Cashew.
Top 6 Cashew Growing Areas in Vietnam (cashew tree growing zone in Vietnam)
Binh Phuoc
Dong Nai
Binh Thuan
Gia Lai
Kon Tum
Dak Lak…
….
=> More Info: Where Are Cashew Nut Tree Grown In Vietnam?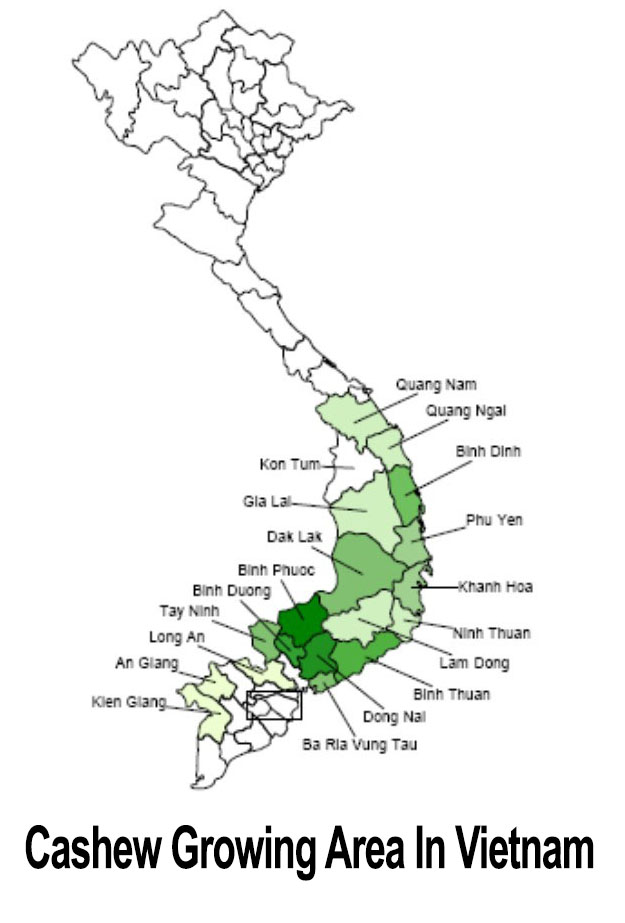 Top 5 Cashew Consuming Countries
India
United States
Germany
Netherlands
United Kingdom
Visiting Kimmy's Cashew Farm & Factory in Binh Phuoc Vietnam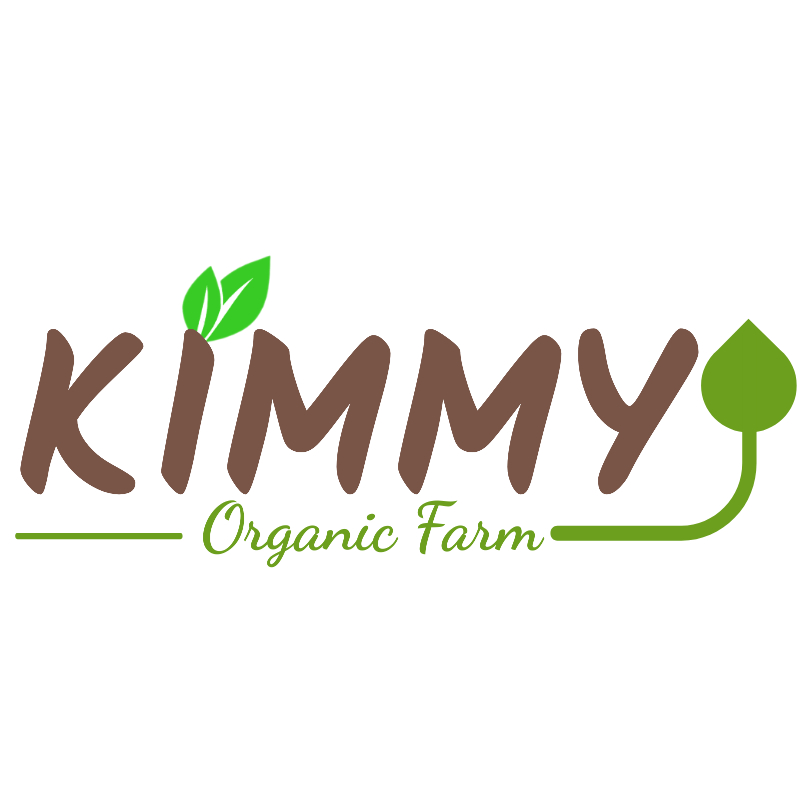 A brand specializing in the production and export of agricultural products in Vietnam. We have a black soldier fly farm in Tay Ninh and a cashew growing area in Binh Phuoc. The main export products of the company are: cashew nuts, cashew nut kernels, black soldier fly, frozen seafood, shrimp, prawns, catfish… from Vietnam.