Products Highlights
20 – 28-days-old alive, BSF larvae (also known as calcium worms, black soldier fly larvae) are a great Protein, Lipids, Calcium supplement for your pets. They are used in food preparation or raw consumption. The larvae products at our farm are black soldier fly larvae that are still alive, big and fat, and raised according to proper procedures. Feeding the larvae while they are alive provides more nutrients than the dried larvae product.
@More Info About >>>Black Soldier Fly Vietnam <<< Click Here – Kimmy Farm
Size of BSFL Products
Depending on different types of pets, we feed them different larvae size. There are SMALL, MEDIUM, and BIG sizes for your choice.
4 black soldier fly size:
Ultra-small – size SS: they are 4-day-old larvae
Small – size S: they are 6-day-old larvae
Medium – size M: they are 12 -> 14-day-old larvae
Large – size L: they are 20 -> 28-day-old larvae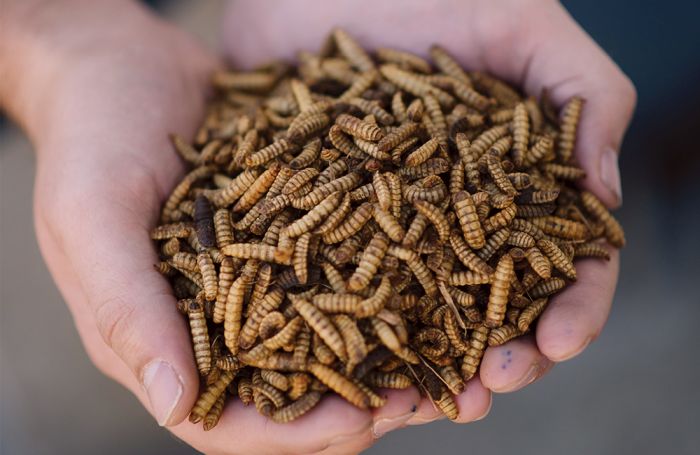 Nutritional Value of Products
The BSF larvae are naturally nutritious, protein-packed, high Lipids, calcium-rich treat for your pet. Their balanced Calcium to Phosphorus ratio is ideal for reptiles. and can help prevent Metabolic Bone Disease. They also contain natural antimicrobial properties that may help boost your pet's immunity.
| | |
| --- | --- |
| Type of Nutrients | % Value |
| Moisture (%) | 61% |
| Protein (%) | 18% |
| Fat (%) | 14% |
| Fiber (%) | 3% |
| Calcium (mg/kg) | 9,340 mg/kg |
| Phosphorus (%) | 3,5% |
How to Store Products
If used immediately: Store at room temperature 25 degrees C – 30 degrees C!
If not in use: Store at 10 degrees C – 15 degrees C! to keep them in hibernation, prolonging the larval stage.
Black Soldier Fly Larvae Are Safe For Your Pets
The BSF larvae can be a complementary food to dogs, cats, small mammals, poultry, ornamental birds, and ornamental fish … The larvae are favored by natural predators. As for dogs, cats, and small mammals, some will like alive BSF larvae or you can cook and mix with their own food. Nutritional content Black soldier fly larvae prove to be very good for pets. It that provides a balanced amount of protein, amino acids, calcium, and other nutrients including omega-3 6 9 fatty acids is great for making pet food. Pet food products made from BSF are now being advertised as a more sustainable, cheaper alternative that is better compared to other conventional pet foods.
3 Recommendations From Veterinarian When Feeding Pets:
Recommended for: dogs, cats, poultry, reptiles, small mammals, and edible insectivores.
Combine 10-20% of your pet's daily diet, or feed it as a protein-rich meal 2-3 times a week.
Choosing a size: SMALL, MEDIUM, and BIG sizes for pets of different sizes.
Black Soldier Fly Farm In Vietnam – Contact Us For Prices
Kimmy Farm – is a brand specializing in the production and export of agricultural products in Vietnam. We have a black soldier fly farm in Tay Ninh and a cashew growing area in Binh Phuoc. The main export products of the company are products from Black soldier fly (BSFL meal, BSFL oil…), cashew nuts kernels, catfish from the Mekong Delta. We are a supply partner for several customers from USA, Australia, South Africa, UAE, India, Singapore, Japan, and many others. Besides, we also have a team of staff with many years of experience working in large processing factories in Vietnam. We are an Exporter/manufacturer of Black Soldier Fly in Vietnam. Please contact us if you need a source of Products from Black Soldier Fly.
=> More Product From >>>Black Soldier Fly Larvae<<<
=> Customers Also Viewed: